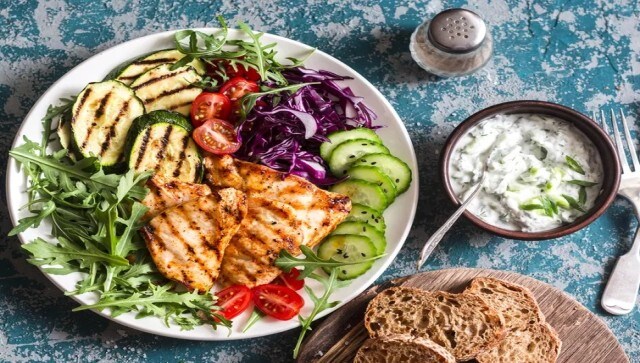 It's that time of the year. January is the month of attempting to stick to New Year resolutions, exercising hard and dieting harder. But amid a sea of diets, which is the best? If the United States News and World Report's annual ranking is to be believed, it's the Mediterranean diet. The plan that has dominated the charts for six years is said to balance good nutrition, is easy to follow and has a colourful palette.
What is the Mediterranean diet?
The Mediterranean diet focuses more on consuming fruits, vegetables, olive oil, fish, whole grains and beans. It is based on the traditional food pattern that is followed by at least 21 countries, including Greece, Italy, Croatia, Lebanon, Turkey and Monaco.
The diet predominantly includes plant-based foods such as fruits and vegetables, while also incorporating whole grains, beans, nuts, seafood, lean poultry and unsaturated fat from olive oil.
According to the research titled "The Mediterranean Diet: A History of Health" published in the Iranian Journal of Public Health, the origins of the diet are linked to the eating patterns of the Middle Ages, in which ancient Roman tradition – on the model of the Greek model – "identified bread, wine, and oil products as a symbol of rural culture and agriculture, supplemented by sheep cheese, vegetables (leeks, mallow, lettuce, chicory, mushrooms), little meat and a strong preference for fish and seafood (of which ancient Rome was very gluttonous)".
Also read: Here are some mistakes to avoid while dieting
How does the diet work?
The diet focuses on filling the plate with fruits, vegetables, whole grains, beans, nuts, legumes, olive oil, herbs and spices daily. Seafood and fish at eaten at least twice a week while poultry, eggs, cheese, and yoghurt are consumed in moderation.
Red meat and sweets are seen as occasional treats, while an occasional glass of wine is acceptable.
The Indian Express quoted Bhatia Hospital Mumbai's dietician Zoya Surve as saying that this type of diet focuses on an individual's eating patterns and thus can be customised based on one's medical history. The Mediterranean diet encourages healthy unsaturated fats and omega-3 fatty acids, thus promoting healthy cholesterol levels leading to a healthy heart, she added.
Also read: Dietary supplements are future of medicine, can replace lots of pharmaceutical medications
What are the benefits of the diet?
This diet has a simple yet effective approach. It helps in reducing the risk of cancer or heart disease and promotes a higher quality of life.
The benefits of the Mediterranean diet were first published in the Seven Countries Study (SCS), the first major study investigating diet and lifestyle along with other risk factors for cardiovascular disease across all countries, according to The Indian Express.
The study demonstrated that the type of fat (saturated, monosaturated or polyunsaturated) matters far more for cardiovascular health than total fat intake. "Even up to 40 per cent of total calories from fat may be heart-healthy, if the fats are unsaturated," it says.
Even though the population living in the Mediterranean region today does not eat the same foods as they did in the 1950s and 1960s, the benefits of this diet continue to remain as it can be easily adapted by any region and food culture.
Also read: Can a poor diet lead to critical health issues in patients with chronic kidney disease
Can you lose weight on the Mediterranean Diet?
One can lose weight with this simple yet effective diet plan. However, one must make wise choices and pay attention to serving sizes.
For instance, overdoing olive oil, cheese, whole grains and nuts might have opposite results.
The US News and World Report cited Elena Paravantes, author of The Mediterranean Diet Cookbook for Beginners as saying that one of the most important aspects of this diet regarding weight loss is that it is "easy to follow for long periods of time".
"In fact, it is a way of life as it is a way of eating that one follows forever. A traditional Mediterranean diet is 40 per cent carbohydrates, 40 per cent fat and about 20 per cent protein. This combination has been shown to not be ideal for long-term weight loss but is associated with lower mortality rates. As the diet is rich in vegetables, beans, and olive oil, it provides good satiety," she said.
With inputs from agencies
Read all the Latest News, Trending News, Cricket News, Bollywood News,
India News and Entertainment News here. Follow us on Facebook, Twitter and Instagram.