Mehul Reuben DasJan 11, 2023 17:45:21 IST
A part of the Soyuz capsule docked at the International Space Station was damaged when a micrometeorite crashed into the ISS. Because of the crash, the module seems to be leaking coolant and other liquids at an alarming rate. Clearly, the Soyuz capsule of the ISS is no longer habitable for Russia's cosmonauts.
As a result, the Russian space agency it would launch another Soyuz rocket on February 20 to bring home two cosmonauts and a U.S. astronaut from the International Space Station.
"The expedition of Sergey Prokopyev, Dmitry Petelin, and Francisco Rubio to the ISS is being extended. They will return to Earth on Soyuz MS-23," Roskosmos said, indicating that a new spacecraft will be launched to the flying laboratory. The MS-23 launch had earlier been planned for mid-March. Soyuz MS-22 will descend to Earth without a crew, it said.
The leaking Soyuz capsule was supposed to bring back cosmonauts from the ISS in March this year, and should ideally have remained docked to the ISS. However, Russia is now planning to bring the Soyuz capsule back to the Earth, without any humans on board. 
The incident has disrupted Russia's ISS activities, forcing a suspension of spacewalks by its cosmonauts as officials focus on the leaky capsule, which serves as a lifeboat for the crew.
The leak is also a problem for NASA. The U.S. agency said last month it was exploring whether SpaceX's Crew Dragon spacecraft could offer an alternative ride home for some ISS crew members, in case Russia was unable to launch another Soyuz.
Russia meanwhile, has refused any assistance from SpaceX. 
The leak from the Soyuz MS-22 was spotted in December when the Russians were about to venture outside the station on a planned spacewalk and ground specialists saw a stream of fluid and particles emanating from the Soyuz on a live video feed from space.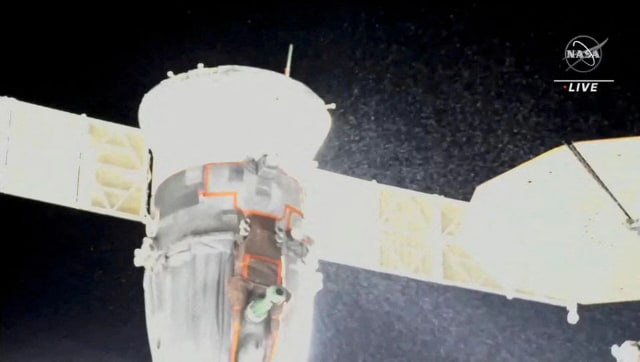 Roscosmos and NASA both have said the incident hasn't posed any danger to the station's crew.
Along with Prokopyev, Petelin, and Rubio, four other crew members are currently on the space outpost: NASA astronauts Nicole Mann and Josh Cassada; the Japan Aerospace Exploration Agency's Koichi Wakata; and Anna Kikina of Roscosmos.